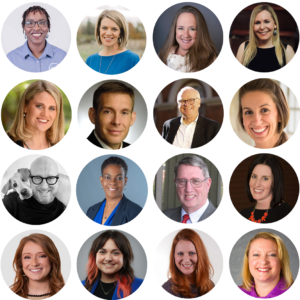 The Thoroughbred Chapter of the Public Relations Society of America (PRSA) has announced its 2023 Board of Directors consisting of communications professionals from various companies and organizations across Central Kentucky.
Officers
President: Tina Bryson, Christian Appalachian Project
President-Elect: Katie Neal, TimelyMD
Immediate Past President: Bethany Langdon, Georgetown College
Co-Secretary: Brittney Edwards Kinison, Frontier Nursing University
Co-Secretary: Brant Welch, Farmers National Bank of Danville
Co-Treasurer: Ashley Tabb, UK Healthcare
Co-Treasurer: Brant Welch, Farmers National Bank of Danville
Directors-at-large
Programming Chair: Marc Whitt, University of Kentucky
Diversity Chair: Kim Brown, Berea College
Membership Chair: Emma McKinstry, 418 Communications
Awards Co-Chair: Cliff Feltham, Kentucky Utilities (Retired)
Awards Co-Chair: Katie Porter, American Association of Equine Practitioners
PRSSA Liaison: Scott Toncray, APR, PR Consultant
Social Media Chair: Dani Jaffee, University of Kentucky
Communications Chair: Mackenzie Davis, Gresham Smith
APR Co-Chair: Amy Preske, APR, Buffalo Trace Distillery
APR Co-Chair: Brant Welch, APR, Farmers National Bank of Danville
Ethics Chair, APR Co-Chair: Holly Wiemers, APR, University of Kentucky- Ag Equine
The Thoroughbred Chapter is a diverse group of communications professionals and public relations practitioners, and offers a variety of programs to help our members learn, grow, and connect with others.
These monthly events feature communications presentations and networking sessions that are open to both members and non-members. Keep up with monthly programming updates on all social media platforms and learn more about the chapter at http://www.kyprsa.org/.