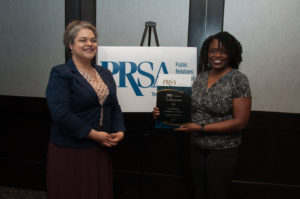 UPDATE: The deadline for award entries has passed.
Because of the turbulence of the week that has consumed the time of many of our public relations professionals, we are extending the deadline for submitting entries for our annual awards competition. The deadline is now at the end of the regular work day on Tuesday, April 21st. Hopefully this will afford time for professionals to pull their entries together in what has turned out to be a pretty unusual circumstance for all of us.
It's awards season for our chapter again and it's time for you to get your entry or entries ready for judging and ready for the awards they deserve. 

Individual & Company Awards
The award categories for individual and company PR professionals is the same as last year.

What You Need to Know 
• All entries MUST be submitted electronically
• Students can enter
• Send final submissions containing all materials via email to Katie at kmcdaniel@aaep.org
• Submissions can be sent in the following formats:
a complete Drobox folder link

a PDF

Word Document 
• Payments will be made via PayPal 
You will receive an acknowledgment of each email within 24 hours. If you don't receive a response, please follow up.
 
Key Dates
The deadline for submitting electronic entries is Tuesday April 21, at 5 p.m. 
The awards luncheon will be announced at a later date.

Communicator of the Year
Each year the Thoroughbred chapter awards a Communicator of the Year award.  This will be the 22nd year for it which honors a person or persons who during the last calendar year have done an excellent job of communicating his or her passion but does not work as a PR professional. 

Last year's recipient was former Lexington Mayor Jim Gray.  Other more recent recipients include Ginny Ramsey of the Catholic Action Center, former Governor Steve Beshear and UK women's basketball coach Matthew Mitchell. 

The deadline for entries is also Tuesday, April 21, at 5 p.m. Please consider who you might submit as an entry for this past calendar year and email that entry also to Katie McDaniel.

Lifetime Achievement/Hall of Fame
The Thoroughbred chapter also periodically awards one of our chapter members with a Lifetime Achievement Award.  One of the requirements among others is the recipient must have at least a 20-year career in public relations.  It is not presented every year… just at those times as the chapter members and board feel it should be presented. 

The most recent recipient was Cliff Feltham in 2018.  Other awardees include Nancy Wiser of Wiser Strategies, Tom Harris of UK, Phil Osborne and Thomas Preston of Preston Global. 

The deadline for entries is also Tuesday, April 21, at 5 p.m. Please consider who you might submit as an entry for this award and email this nomination also to Katie McDaniel.
It's time to get organized and good luck.  Submit as many entries as you'd like.