When
Tuesday, September 17, 2019 from 11:45 AM to 1:00 PM 
Where
NewVista, 1351 Newtown Pike
1351 Newtown Pike
Lexington, KY 40511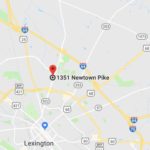 Driving Directions
Moving Way Too Fast…The Rapidly Changing Communications Environment & Its Impact in Central Kentucky

Guest Speakers: Nancy Wiser, APR, Jerry Grasso, and Jacqueline Pitts
The communications environment each of us must now manage is fluid and volatile – practically disconcerting. How does a comms professional offer his or her best counsel to executives or clients to maximize news and brand value among the white noise of multiple social media platforms? What are the real concerns we all must address with our market's shrinking media landscape, which some say is approaching the state of a news desert in Central Kentucky?
For expanding companies or well-established enterprises, what do the next five years look like? Can we as professionals forecast that far out?
Local communication experts Nancy Wiser, founder & president of Wiser Strategies; Jerry Grasso, vice president of marketing and communications for the YMCA of Central Kentucky; and Kentucky Chamber communication director and Bottom Line editor Jacqueline Pitts; along with moderator Risa Richardson of Columbia Gas of KY will enthusiastically discuss these topics at an upcoming Thoroughbred PRSA luncheon.
Nancy Wiser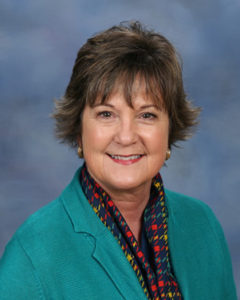 Nancy Wiser, APR, Fellow, PRSA is president of Wiser Strategies. Prior to establishing Wiser Strategies, she co-founded Wiser, Hemlepp & Associates, was vice president of The Preston Group and worked for acute care and rehabilitation hospitals. Nancy is most in her element when analyzing, developing or managing strategic communication programs and counseling top executives. She also thrives on the creative process. Clients have included a range of businesses and non-profits, including health and medical organizations, education, technology, finance, transportation and government. Nancy has been active in the Public Relations Society of America throughout her career. She is Accredited in Public Relations, a member of the College of Fellows and the Counselors Academy, and has held leadership roles at every level of the international organization. She holds a master's degree in communication from the University of Kentucky and an undergraduate degree from Eastern Kentucky University. She has been a visiting instructor with both universities and has presented nationally and regionally on such topics as issue management, media relations, customer satisfaction, and research.
Jerry Grasso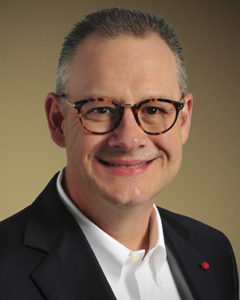 Jerry Grasso is the vice president of marketing and communications at the YMCA of Central Kentucky. Previously, he handled brand and reputation work for Equifax after the company's cybersecurity incident in 2017, and before that was senior vice president and chief marketing officer for Lexmark International. Grasso has also served as vice president of corporate communications for the Lexington-based printer manufacturer. In that position, he was responsible for public relations, internal communications and corporate creative services. Before Lexmark, Grasso was vice president of corporate communications at EarthLink Inc., one of the country's largest internet service providers. Prior to EarthLink, he was director of corporate communications for Epoch Internet. Additionally, he has worked at the ARIS Corporation and with Sprint's business division. Grasso holds a bachelor's degree in history from Kansas State University and a bachelor's degree in communications from the University of Texas at Arlington. 
Jacqueline Pitts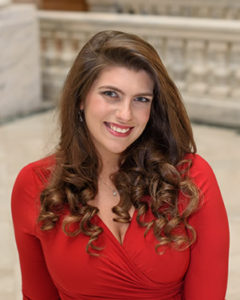 Jacqueline Pitts is the communications director and Managing Editor of the Kentucky Chamber's news site, The Bottom Line. Jacqueline was hired by the Chamber in December 2014 to serve as a political reporter for the business community through stories, interviews and videos for The Bottom Line. The Kentucky Chamber was the first chamber of commerce in the nation to hire a political reporter. As communications director, Jacqueline oversees all communications, marketing, and advertising efforts for the organization. Prior to her work at the Chamber, Jacqueline worked as the political producer for cn|2's Pure Politics, the only nightly political television show in Kentucky. Jacqueline is a graduate of Western Kentucky University where she majored in Broadcast Journalism and Political Science.